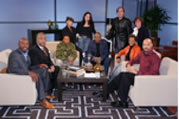 That's What I'm Talking About is a smart and quick–witted series where celebrities toss out their opinions and recollections about black entertainment and culture and its impact on American pop culture. An amalgam of Politically Incorrect, Dinner for Five and The Best Damn Sports Show, this series of three one–hour specials is a thought provoking look at nostalgia.
That's What I'm Talking About questions the questions, penetrating the opinions of the celebrities. It's today's icons sharing their insight and opinions on the history they've watched and lived. Airing on TV Land, these specials will entice and excite an audience that has grown up on this rich culture.
Topics include:
Why didn't Denzel and Julia have a romantic relationship in the Pelican Brief? Which black athlete was most influential?
Why was Bill Clinton considered the first "black" president?
What is the more "authentic" black experience "Good Times" or "The Cosby Show" or are they both real?

What has changed so that TV characters could use the "n" word in the 70s but cannot today?

Which politician did the most for civil rights?

Why is Franklin Roosevelt the only black Muppet?
Some topics are obvious, some more obscure. All deserve recognition. And the fun is in the debate.
The series was executive produced by On Screen Entertainment's Nikki Silver and Orly Wiseman (Miracle's Boys, Reading Rainbow) and Tonya Lee Lewis (best-selling author, producer and wife of director, Spike Lee.) The shows were produced by Lauren Gray.
That's What I'm Talking About aired on TV LAND during Black History Month 2006.