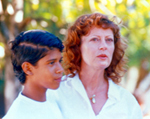 WHAT'S GOING ON?, produced by On Screen Entertainment in partnership with the United Nations, is a series of ten family-oriented specials that premiered on Showtime in January 2003. This groundbreaking series goes beyond the headlines to examine global crises through the eyes of children.

Hosted by UN Goodwill Ambassadors such as Michael Douglas, Angelina Jolie, Danny Glover, Laurence Fishburne, Susan Sarandon, Tim Robbins, Richard Gere and Meg Ryan WHAT'S GOING ON? celebrates the universal elements of childhood across the globe, and forges a connection between kids everywhere.

Recent global events, including the war in Iraq, September 11th and the escalating conflict in the Middle East, have raised difficult questions. Parents are seeking to inform themselves and their children about these troubling and complex issues. WHAT'S GOING ON? offers answers, to both parents and kids, and puts a human face on crisis.

Drawing on the reach of the United Nations, WHAT'S GOING ON? is there—meeting real children, in real places, and telling kids' life stories from their own point of view. From Sierra Leone to Brazil, refugee camps to battlefields, WHAT'S GOING ON? examines the impact of strife and hardship on children in a variety of settings, including regions devastated by war, hunger, and HIV/AIDS.

WHAT'S GOING ON? is a series that families will watch together—attracting an audience of all ages. By raising awareness of critical issues, WHAT'S GOING ON? invests in the future of our global society.